Simulation Data Management
Manage your simulation processes, data, tools and workflows
The pressure to shorten time-to-market while improving product performance drives the increased use of simulation throughout the product lifecycle. However, without some form of simulation management, simulation itself can become a process bottleneck.
Simulation data management helps get control of simulation data and processes to avoid common problems such as analyses performed on obsolete data, poor visibility to simulation results, and results arriving too late to drive design direction. Efficiently manage and share complex simulation to all your decision-makers ensuring the product is designed right the first time.
Simulation data management is key to staying tied to the broader digital thread, which is required for seamless end-to-end data reusability and traceability.
Simcenter System Simulation Client for Git
Simcenter System Simulation Client for Git tool helps all the actors of the system simulation community to work collaboratively.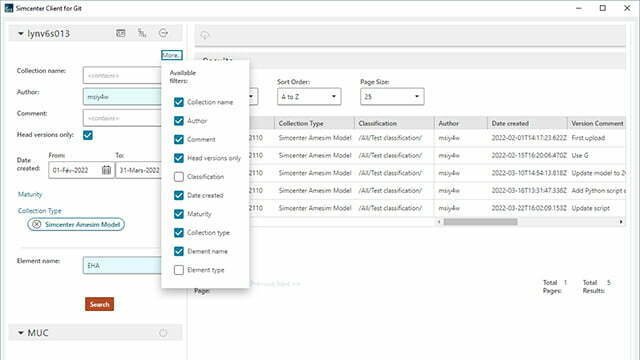 Simulation Process and Data Management
Teamcenter Simulation manages your simulation processes, data, tools and workflows. This solution has been specifically designed to help you control your simulation data and processes in the context of an overall product lifecycle management (PLM) system.
System Simulation Management
Teamcenter system simulation management manages system data originating from Simcenter Amesim and other system simulation tools, providing a collaborative environment for model-based systems engineering data. Teamcenter system simulation management is the repository where you can create an organizational model for system simulation data and facilitate classification, query and retrieval according to relevant engineer schemas.