Siemens NX software is a flexible and powerful integrated solution that helps you deliver better products faster and more efficiently. NX delivers the next generation of design, simulation, and manufacturing solutions that enable companies to realize the value of the digital twin.
Supporting every aspect of product development, from concept design through engineering and manufacturing, NX gives you an integrated toolset that coordinates disciplines, preserves data integrity and design intent, and streamlines the entire process.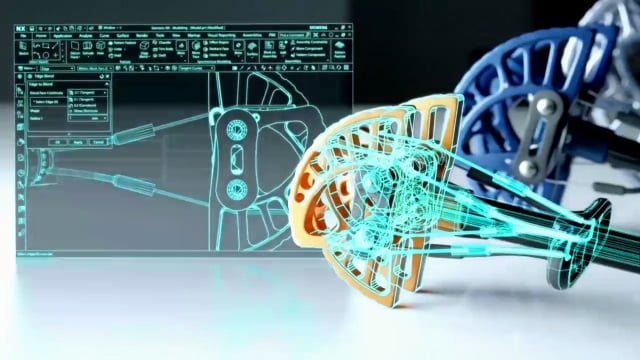 NX is a more comprehensive software package than Solid Edge. It is considered a high-end product primarily because it offers advanced and tightly integrated product development solutions for CAD, CAM, or CAE applications, although the term can still apply when referencing pricing because NX is an expensive program.
Like its competitors, NX has drafting, assembling, designing, and modeling functionalities, but has been lauded by users as the best in its class due to its user-friendliness. So advanced is its user experience and user interface that it offers adaptive capabilities in that it tracks and learns the user's actions and commonly used functions such that it predicts the commands they will use during future projects. These aspects of its UI and UX make learning NX easier than Solid Edge. Still, a beginner would experience some difficulty.
NX is ideal for creating 2D drawings as well as coming up with 3D designs of complex parts and systems. It can also be used for all kinds of modeling, i.e., parametric modeling, solid modeling, sheet modeling, aerodynamic modeling, and surface modeling. Although its modeling environment is advanced, it falls behind CATIA when it comes to the latter two types, but is still better than Solid Edge on all modeling fronts.
Notably, you are less likely to encounter errors when dealing with NX's sheet metal environment than when using other CAD software programs, making it the go-to product for sheet modeling. On top of this, it offers the best rendering in its class, and no other CAD software comes close. Some of the functionalities that the rendering feature provides include the ability to assign material and color to each part and surface in an assembly, thereby making it easy to distinguish one from another.
However, the only downside of its rendering is that it takes an excessive amount of time, even when the image's resolution is consistent. NX also allows users to carry out various forms of analysis, including thermal, electromagnetic, static, dynamic, and structural as well as fluid flow simulations. Like Solid Edge, NX generates a report for each data set for archival or regulatory requirements
Reduces repetitive design operations by using customized design elements
Eliminates design variability and encourages adherence to company design standards
Automate the use of commonly used design elements
Simplifies the product model
Supports re-use initiatives
Collect multiple design elements (features and operations) into a single feature
Can predefine size and shape options to reflect company standards
Includes a specially designed creation wizard with helpful instructions and re-use dialog
Features are organized into libraries
Features are integral design elements for knowledge-driven automation and manufacturing