Teamcenter Rapid Start is packaged to meet the needs of small to medium sized businesses, with on-premises deployment in as little as one week for MCAD and ECAD teams using NX, Solid Edge, SolidWorks, Altium Designer, Cadence OrCAD, and PADS.
Get off to a fast start with enterprise PDM basics like design and document management, visualization, change, and BOM management. Take control of cross-domain product information and processes with business-wide access and visibility. Once you're up and running with PDM, you can grow to PLM as your needs grow!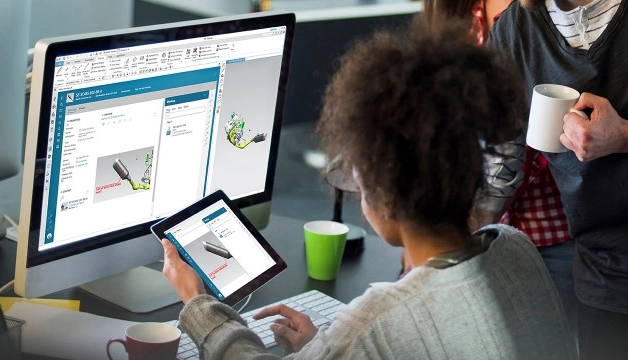 Teamcenter Rapid Start, a Teamcenter solution (unified architecture), can be deployed and ready to use in nearly 70% less time than it takes for a custom installation of the separate software components. Rapid Start delivers both the standard Teamcenter and a preconfigured PDM functionality. These choices of features allow customers to get their PDM environments up and running quickly and cost-effectively.
Teamcenter Rapid Start is specially designed to address the PDM requirements of small and medium size businesses (SMBs). These SMBs, which do not have big IT infrastructures, don't want to get into customization complexities but instead benefit greatly from easy-to-install, easy-to-use, pre-configured packages.
Teamcenter Rapid Start delivers the world's most widely implemented product data management (PDM) solution, Teamcenter, preconfigured to utilize the most common industry best practices and the expertise of Siemens PLM Software. By choosing Teamcenter Rapid Start's preconfigured capabilities, you can minimize the costs of consulting and deployment, and get started with PDM quickly and cost-effectively.
Teamcenter Rapid Start gives you all the robust PDM capabilities of Teamcenter, plus the flexibility to grow into additional Teamcenter product lifecycle management (PLM) capabilities when you are ready. You can realize the immediate benefits of PDM with confidence that you have a growth path to PLM.
Teamcenter Rapid Start Features
Single source of product data
Multi-CAD data management
Support for popular mechanical (MCAD) and electronic (ECAD) tools
Intelligent part numbering
Data exchange
Document management
Simple process management
Preconfigured roles and functionality
CAD-neutral visualization
Collaborative design review tools
Codeless configuration
Teamcenter Rapid Start Benefits
Simple and fast to install, set up and deploy
Essential PDM capabilities are available immediately
Minimal IT expertise to operate and support
Realize benefits quickly for a fast return-on-investment
Start with PDM and grow to PLM
Access, share and re-use designs across MCAD and ECAD tools
Automate and streamline processes with preconfigured workflows
Manage and share BOMs for business-wide visibility
Collaborate with non-CAD and multi-CAD users
Create and share engineering documents and designs, with the ability to access within Microsoft Office applications